"It´s raining again", said Martha as she called Tom for the third time over
the two war radio. Thomas Ascara, chief pilot of "Amazonas Air" was to land in a few
minutes. He was returning from his daylong flight over the great southern Amazon
Basin where his small Air Service flew day in and day out. Flying in this territory
is quite a challenge for rain and fog usually is the common day to day situation for at
least 9 months a year. The Amazon weather never stops delivering more water to the
great river and life to the inmense jungle, which sadly, is deminishing by the hour.
Amazonas Air has grown a lot from its original state in 1934 when Tom´s Grandfather started
with his lonesome pontooned Fiarchild.
There are three pilots waiting outside for Tom to land for a new pilot is needed to
fly daily supplies, mail and passengers to many towns along the river. You there!!!!!!
the second one with the stand up hair....yea you....might you be the next piloto?
feeling his way above the mighty river?....will you stand the pressure of jungle flight?
maybe....maybe not, but this is your chance to fly in the Green Jungle of the Amazon....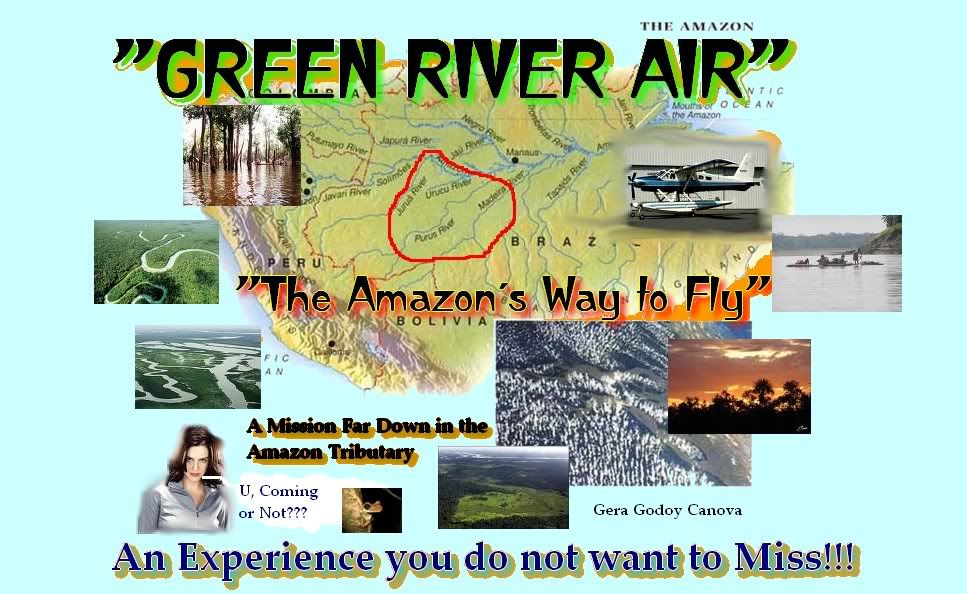 .....Includes all maps, frecs, a bottle of rum (For the overnights for more than 24 hours), some useful telephone numbers (?), Special Pilot´s Certificate (Needed by rural police), some good reading mags, matches,
machete, yellow socks (for luck), trinkets, bananna juice in a can, coca leaves for those who like to chew them (these are imported from Bolivia), coffee, a basketball, shoepolish in a can, brush, pepper and salt, hook, line,
corn meal, canned worms from Louisiana (for fishing), pepperoni from Bologna, mirror, inflatable boat, oar and some dates in a bag.
Important: Pilots wishing to participate must bring their own plane, if you don´t the management will let you use one of the company´s jalopies.......
Anything goes here!!!, you not coming to Paradise.....ye hear!!!
Oh.....some Millionaire in his Sailing Sloop is lost somewhere in the many tributaries, keep an eye open!!!!!
__________________